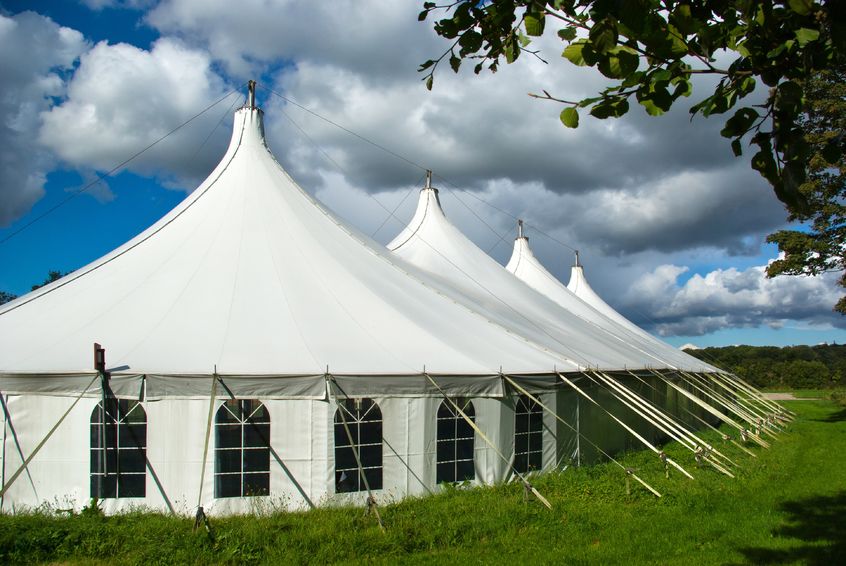 Whether you are planning a sweet, rustic wedding or have a classic, romantic theme, West Coast Rentals can help make your dream day a reality. From tables and chairs to linens and lighting, we have a wide array of products that will accentuate your wedding vision. Planning an outdoor wedding in the Tampa Bay area of Florida? From their ability to provide an escape from the elements to their customizable design, there are plenty of reasons to rent a tent for your wedding reception.
Beat the Heat…or Rain
With temperatures in the 70s and 80s for more than half the year, creating a cool area for your guests to eat and mingle is a must. There is also rain to consider – the biggest fear of many brides hosting an outdoor wedding. Choosing a tent with walls will allow you to add air conditioning or heaters to combat the weather and create a cozy space regardless of the weather outside.
A Blank Canvas
A tent provides the ultimate flexibility when planning your wedding reception. From lighting to décor and table settings, every choice can be customized and designed to reflect your wedding theme. Here at West Coast Rentals we are happy to work with the bride and groom to create the vision they have been dreaming of.
Custom Size
Whether you are planning an intimate and cozy reception or a grand party, there is a tent and accessories to match your size. When choosing an indoor venue you often have to work within the parameters of how many people can fit. By renting a tent – or tents – to accent your outdoor festivities you will be able to invite as many or as few guests as you would like.
Focus
For a large and scenic outdoor venue, tents create organization and focal points, letting your guests know where the dance floor, food and bar will be. They also provide privacy and a place for your guests to relax and take a break from the dancing and festivities
Interested in renting a tent for your upcoming nuptials? Contact us online or by calling 813-949-7479 to learn more about our products and services. We can't wait to start planning your big day with you!