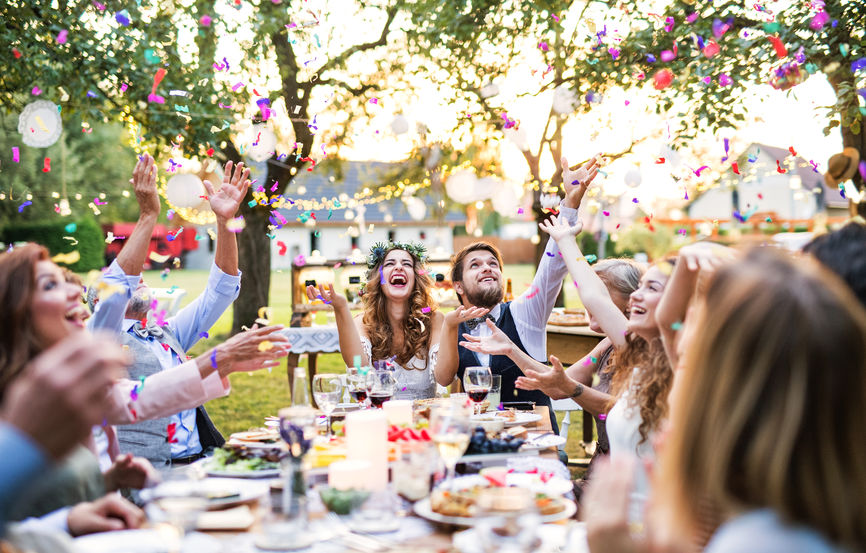 There are a lot of great reasons to choose a backyard wedding over a traditional venue. You can choose any combination of vendors you want. There are endless opportunities for personalization, as you're essentially building your dream wedding from the ground up. You'll save money and have more flexibility. A backyard wedding truly is an incredible option—as long as you do it right.
Let's take a look at a few of the biggest do's and don'ts of planning a backyard wedding, so you can be sure to pull off the special day you deserve!
DO have a weather plan.
Unexpected weather (rain, wind, extreme heat, cold) can quickly destroy your carefully planned backyard wedding celebration. You'll want to have a plan B location on deck, such as a nearby church. Or, the easier option would be to rent a beautiful wedding tent, which can elevate the aesthetic of your event and provide weather protection.
DON'T forget your permits.
Gatherings of a certain size or certain equipment you'll need for your backyard wedding will require permission from various local departments. For party tents or open flame, for example, you'll need a permit from the fire department. It's a good idea to speak with your neighbors as well, out of courtesy and to avoid noise complaints or parking issues.
DO make sure your space is ready.
A wedding requires a lot of space and setup. Be realistic about what the property you're using can accommodate and how long it will take to prepare. Leave enough time to get your landscaping up to par, especially florals. Also plan for time to secure and space to arrange rentals, such as tables, chairs, entertainment, dance floor, bar, kitchen equipment, extra bathrooms, a generator, etc.
DON'T try to do it all by yourself.
For a backyard wedding, you're essentially creating your own venue. This means there are many additional details that need to be accounted for that you wouldn't need to worry about with a traditional venue. Consider hiring a wedding planner to help. Or, at the very least, consult with your vendors about what they'll need and what they would suggest for the type of event you have in mind. Experienced vendors will help alleviate stress on you and ensure nothing is forgotten.
If you're planning a backyard wedding in Tampa Bay or surrounding areas, West Coast Rental can help you plan, create, and throw the celebration of your dreams!
We'll handle all of your rental needs from tents and tables to lighting, linens and beyond. We also offer event design services, if you're looking for someone to help plan your wedding and ensure your ideal vision is brought to life.
Contact us today to get started with a custom quote for your event!